Bishop Sutton & Alexander Ltd is a small company specialising in bespoke fencing, gates, barriers & decorative railings.
You may have seen the bsanda fences and gates insignia on our operatives' clothing.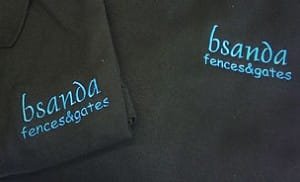 As a customer of bsanda you can be certain of complete satisfaction. Our vast knowledge, good communication, high standard of cleanliness and workmanship throughout the supply and installation of our products is second to none. We deliver the best products, at affordable prices, all of the time. With a service that puts YOU first! The following testimonials indicate what our customers think about us.
John Murray, 'The Old Trout' Public House, Southend-on-Sea.
 "Great quality, great service and great value for money. I've never seen people stop to admire a gate before. I would have no hesitation in recommending Bishop Sutton & Alexander Ltd (bsanda) to anyone who requires good workmanship at a reasonable price and on time delivery."
Bob Smith, Director, Imperial Park Management Ltd.
"We obtained three quotations for the replacement of security fencing one of which was submitted by Bishop Sutton & Alexander Ltd (bsanda). Whilst they were not the least expensive, I was impressed by the knowledge and presentation of the representative who visited us. The start date arrived and so did the installation team at 8am, and the work was completed within the two days quoted in an efficient and professional manner. We were delighted with the work carried out."
Dennis Bocock MBIFM, Basildon East Schools Premises Consortium.
"Within my role as Premises Consultant I have known and dealt with Bishop Sutton & Alexander Ltd (bsanda) for approximately five years. Throughout this period I can only describe their services as being efficient and professional with a good quality product and installed by experienced and courteous personnel and I would have no hesitation in using this Company for future projects."